Let us keep the aspirations of Kavya alive
Most of us are fortunate and contended to have all our basic parts of body function properly while there are some who are the victims of congenital disorder or the problem since birth.  Kavya Sharma [ who is just 3 year old ] and her parents [ Sonu Sharma, who works at a sweet shop and earns Rs. 7000 per month; Chanchal Sharma, a housewife ] have had faced distressful situations. When their daughter was 1 year old, she faced the difficulty in walking and communicating; she was not able to perform these movements.
Kavya was brought to nearby hospital in Jewar Jilla, Gautam Budh Nagar by her parents where there were complete tests and checks of her, but there she was referred to a hospital in Bulandshahr; again there were complete tests and checks, and later it came out as a hole in her heart which tensed her parents. She was referred from their to AIIMS, Delhi, there her family was told to go for surgery on 8th May, 2019 for their daughter which amounted to Rs. 65000 and they couldn't afford to undertake it which thereby resulted into delay for the surgery. She continues to stay in the pain with vomiting and fever, and sometimes remains in emergency ward.
We should all come together for taking a step ahead for the betterment in one's life. There is an urge to donate and contribute as much as you can soonly for saving her life through financial assistance. Remember, little money as donation makes it a huge with alacrity.
Hoping for the message we provided above is apparent and a move towards an impact.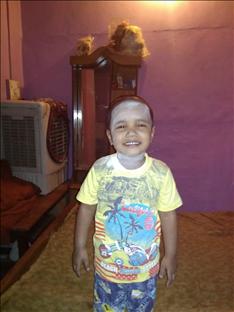 Call Us +(91) 9990507028/9873321731 or email info@savegirl.org
OUR CORRESPONDENCE OFFICE ADDRESS: SAVE THE GIRL M-6, Plot No. B-1/2, Bhanot Bhawan, Nani Wala Bagh Commercial Complex, Azadpur, Delhi-110033