Current Projects
"Charity sees the need, not the cause"
There is a common belief that one person is not enough to make a difference. Save The Girl is a non-profit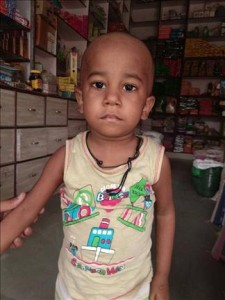 organization that has proved otherwise. So far Save The Girl has helped hundreds of people with their medical care and thousands of children with their primary education. We do this not because we have to but because we want to. So, if you think you are too small to make a difference think again, after all 'boond boond se sagar banta hai'. This is an appeal to donate for the treatment of 4 year old Kanha who has blood cancer.
"If you want happiness for an hour, take a nap.

If you want happiness for a day, go fishing.

If you want happiness for a year, inherit a fortune.

If you want happiness for a lifetime, help somebody"
Kanha Aggarwal is 4 year old blood cancer patient whose father Sharman kumar cannot afford his treatment anymore. Common problems that Kanha faces are vomiting, frequent sickness, blood from gums etc. As you might have heard, the expenses of treating cancer are pretty high. Usually only rich make it out alive. Save The Girl would give its heart out to save a life. After all, no one should lose a loved one because of lack of money and we are certainly not going to sit idle while Kanha's life hangs on a balance. So, we goad you to donate as much as you can to save Kanha's life. After all, saving someone's son's life is the biggest gift you can give to anyone.
Kanha is currently admitted in Sir Ganga Ram Hospital. Kanha needs at least 6 chemo therapies in one month to make it. One therapy costs around 50,000 rupees.  Plus there will be medicines, injections, tests, hospital fees etc. These all expenses make the cost at around 6 lack rupees. Sharman alone cannot arrange so much money. He needs all the help he can get. And Save The Girl doesn't succumb to challenges. So, we have made it our mission to save Kanha's life. After all, a life is worth more than everything.
We, the members of Save The Girl, solemnly urge you to donate as there is no better feeling than when you contribute to saving a life. Donate, because giving has never made anyone poor. Give as much as you can because it's not how much you give that matters but how much love you put into giving.
We hope that our message got to you and you decide to act on it as soon as possible.
MEDICAL REPORTS OF KANHA