Cancer- A Disease For The Rich.
Jigyasa is a 3 year old girl suffering from blood cancer.  She belongs from a poor family where her father, who is a shop worker, is the only earner of the family. She was having fever and was soon diagnosed with blood cancer by Dr. Manas in Sir Ganga Ram hospital. The total expense is around twelve lakhs, where four lakhs is already being spent on her pick line and chemo therapies.
This little flower is in urgent need of money for the continuation of her treatment. Her family is going through the worst phase of their life, and now it is only us, the donors who can help them.
We cannot decrease the pain of Jigyasha, all we can do is to help them financially. Now it is up to us whether we want a little girl to led a great life forward or to fail against poverty.
We just request all our sincere and kind hearted donors to donate as far as possible to save the life of a little girl. Her family is unable to arrange for the money, they are trying their best to save this girl.  We as human beings can do our part of humanity and help this little girl so that she could lead a healthy and happy life forward.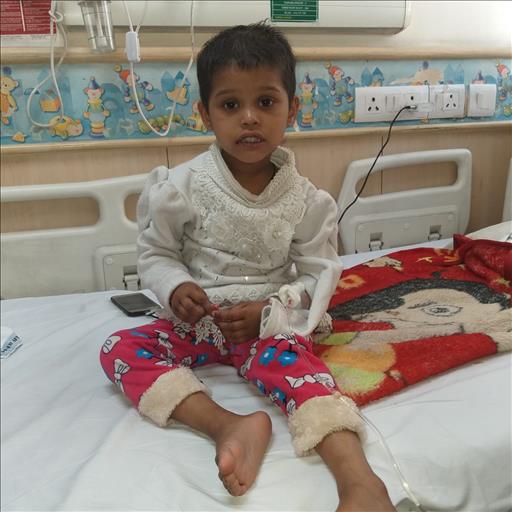 MEDICAL REPORTS OF
JIGYASA
Call Us +(91) 9990507028 / 9999507028 or email info@savegirl.org
OUR CORRESPONDENCE OFFICE ADDRESS: SAVE THE GIRL 89, HOUSING BOARD SOCIETY, NR. YADUVANSHI SCHOOL, SEC. 33, GURGAON-122003M-6, Plot No. B-1/2, Bhanot Bhawan, Nani Wala Bagh Commercial Complex, Azadpur, Delhi-110033