Life will become more cheering when you'll make it better for somebody.
While we all are enjoying with our families a little boy is struggling for breath and happiness. You can bring change to his life by donating for his treatment. Take a look at his situation closely.
Dheeraj is 2 year old boy suffering from Blood Cancer from past 1year.
His father Krishan Kumar is a working man and his mother Anita is a housewife. Family's earning is very less and from past 1 year it is all spent on his treatment.
On 28th September 2019 Dheeraj and his family came to know about his health condition for the very first time.
After that his parents took him to Yadav hospital where suddenly Dheeraj's health got worse. Then they went to Sir Ganga Ram Hospital where the doctor admitted him on 1st September 2020.
Now he is getting 4 chemo every month, cetra injection and hydroz. All of this costed for 10-12 lakhs. In which 1 Lakh Rupees was provided by the doctor as a support and 3 Lakhs Rupees was received from PM Care's Fund and rest was arranged by his parents after selling their home.
He still needs to be treated with Bone Marrow Transplant which will cost around 15 Lakhs Rupees. Out of which 10 Lakhs Rupees already deposited by parents of dheeraj which they arranged by selling their house. Now Rupees 5 Lakhs more required to complete the treatment. Please consider the situation of this poor family how they are battling for their son's life. This period of hardship took their home away.
Your help can reduce the pain of the family of losing their home, when they'll see their child fine and healthy again.
We all know such treatments are absolutely costly and for a poor family it's the most difficult situation.
A small boy is struggling from all these pains and waiting for a life changing moment. Your support and donation can help the boy to get his life back and a bright future.
SAVE THE GIRL NGO requests you to help Dheeraj by donating for his Bone Marrow transplant treatment. We can bring back a major change is someone's life together.
Donating for someone's treatment is equal to serving prayers to God. It's and humble request please help in Dheeraj's treatment.
Your donation can let the child live his future with freedom and happiness. He can focus on his bright life ahead.
For some 5 Lakhs Rupees must be a very less amount but for some it is a life changing amount.
Believe us you'll be the happiest after donating for someone's life.
Looking forward to your urgent support.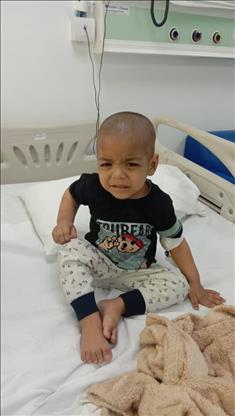 MEDICAL REPORTS OF
DHEERAJ
Call Us +(91) 9990507028 / 9999507028 or email info@savegirl.org
OUR CORRESPONDENCE OFFICE ADDRESS: SAVE THE GIRL 89, HOUSING BOARD SOCIETY, NR. YADUVANSHI SCHOOL, SEC. 33, GURGAON-122003M-6, Plot No. B-1/2, Bhanot Bhawan, Nani Wala Bagh Commercial Complex, Azadpur, Delhi-110033